Event period, 22 July-30 August, prize draw date 30 August
Participation Method 1 (For Existing Customers Inviting New Customers):
🌟During the event period, existing customers who invite new customers to register and place successful orders will receive one chance to participate in the lucky draw.(More invitations will have a better chance)
The more friends you invite to place an order, the greater the chance of winning!
🌟 One successful order during the campaign period can also participate in the campaign
Participation Method 2 (For New Customers Making Purchases):
🌟During the campaign period, new customers who successfully place two orders will have the opportunity to participate in the lucky draw once!(Activity time 22 July to 30 August)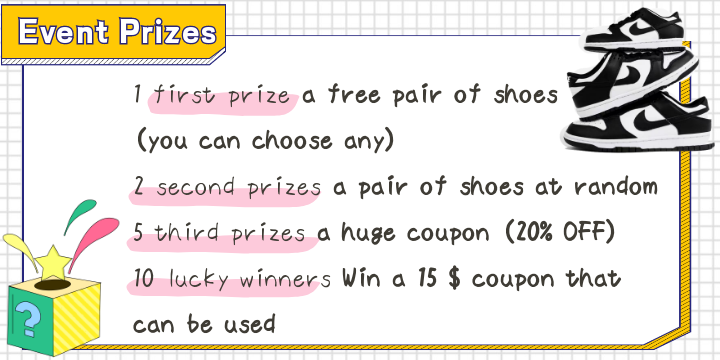 🎁Prizes for this participation method:
First Prize: a free pair of shoes (you can choose any) . 1 winners in total.
Second Prize
: a pair of shoes at random . 2 winners in total.
Third Prize: a huge coupon (20% OFF). 5 winners in total.
Lucky Prize: Win a 15 $ coupon that can be used on the next purchase. 10 winners in total.
Customer service contact details:
WhatsApp:+86 133 2831 9257
Email: fashionrpes@gmail.com
Notes:
The same customer can simultaneously qualify for both participation methods and receive corresponding chances for the draw.
The results of the lucky draw will be announced on the official website and social media platforms within 5 working days after the event ends.
Winners will receive an email notification within 5 working days after the announcement. Please check and reply to the email to confirm the shipping address and relevant information.
If a winner fails to reply and confirm within the specified time or cannot be contacted, it will be considered as giving up the prize, and the prize will be awarded to the next customer on the backup list.
Prizes are not exchangeable for cash and cannot be transferred to others.
Any fraudulent activities or malicious participation will result in disqualification, and the prize qualification will be revoked.
The final interpretation of the event belongs to the organizer.
COMPANY INFO
Payment & Shipping
Newsletter